Retro Space Ball
...When a pixel art vertical shooter is combined with pinball to twist the genre!
BETA 1.1.3 IS HERE!
Some small graphical updates this week!
The first 7 levels now have hidden bonus levels attached!

REMINDER: Updates to the Itch.io browser build inherently loose saved data. The PC build does not have this issue! Sorry for any data loss! The word beta on the start menu is actually a level unlock menu to prevent forced replay, hope it helps.

I must say... THANK YOU SO SO MUCH FOR TIPPING! I'm blown away and speechless! This is extremely motivating. It's not about the money, which is indeed helpful. It's all about the support!

Now you can find out when the game gets released via newsletter!
As always if there is anything getting past me PLEASE let me know! I'm super grateful for all the feedback I've gotten thus far and would LOVE to hear what you have to say! Even if its negative, or you found a bug, join the discord and say hi!

The Android version is slipping behind in updates due to lack of time in general. Let me know if your interested in the mobile version. Android_b1.0.6 is quite playable. Sorry that it's missing many features and changes.

There are some button selection glitches with the Android_b1.0.6 build, but it has no affect on gameplay.

On the WebGL build the links must be clicked (controller wont open them)

Also keep in mind: THE WEBGL BUILD LOSES DATA WHEN ITS UPDATED. To avoid this, download the Windows version. There is a level unlock button on the start menu. its hidden in the word "beta" under the RSB logo.
The PC build can go vertical either in windowed mode or on a vertical monitor! just stretch the window to achieve this. (vertical works very well for the game) :)
ALL FEEDBACK IS APPRECIATED!
Thank you, not only for your patience, but also for all the help I've received from players and the indie game dev community!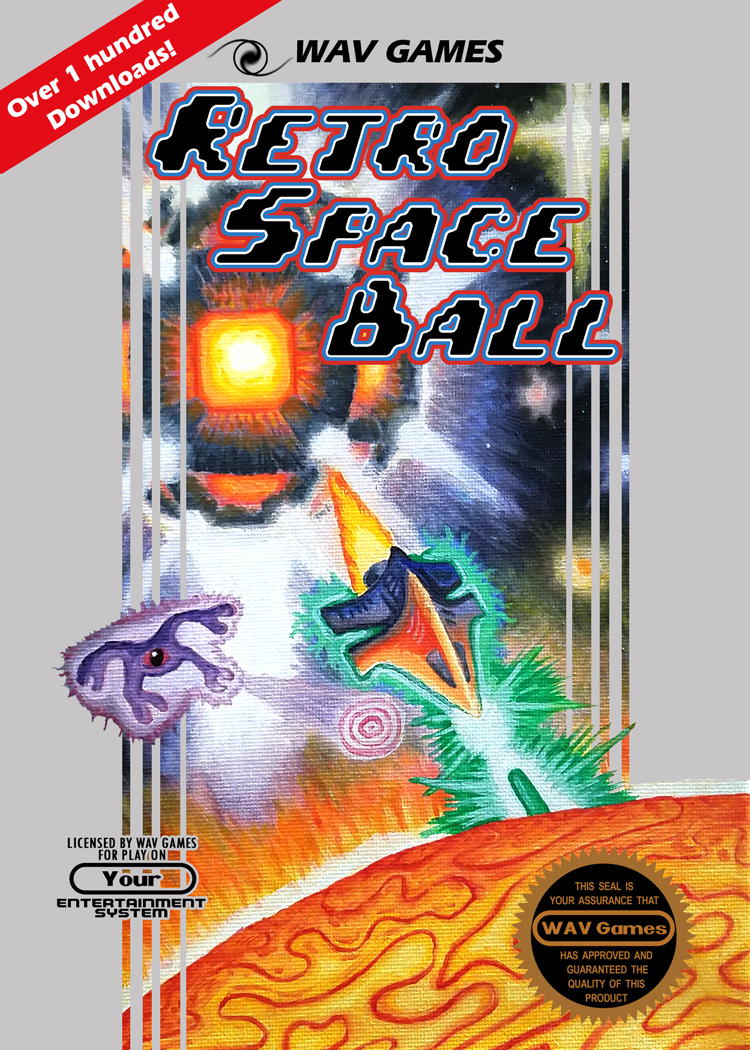 Join the Discord server to chat it up! Become a tester!

Watch the game being developed on Twitch!
Check out previous devlogs on Youtube!
Check out my art and follow me on Instagram!
Check out my updates or help support the game on Patreon!

DOWNLOAD FOR ANDROID DEVICES AT THE BOTTOM OF PAGE :)
Data saved in Web GL game is not retrievable after an update... Sorry in advance!
The game is, after all, still in development, and gets updated often.

If you do happen to loose your data, you can click on where it says the word "beta" under the title at the main menu to unlock all the levels. Thanks for continuing to play!

Retro Space Ball is currently in EARLY ACCESS. Test the beta build here on your browser, or download the APK installer for android . Also there is an executable for windows.
_____________
CONTROLS:
(W) or (Up Arrow) : Fire (hold for continuous)
(A) or (Left Arrow) : Move Ship Left
(D) or (Right Arrow) : Move Ship Right
Holding (Spacebar) while moving left or right will allow you to dash .
Esc key to pause & access options (back button (right bottom button) on android)

(On mobile the controls are an invisible slider the size of the screen. You can tap or slide on the left or right of the screen. Double tap to dash! Touching the screen shoots!)
Gamepad controls may depend on your controller type. On a Playstation controller the left analog controls movement, (X) button shoots and hold (O) button while moving to dash. Start button pauses.
________
RULES:

Get the orb to the top!
The player has a cyan shield that can be taken by enemies and their shots.
The orb has an energy level that is depleted by enemy shots and increased by player shots. If the orb runs out of energy, it dies, and so does the player. (a blinking red-orange orb has low energy, a blue orb has high energy)
If the orb falls to the bottom of the level, the player will die.
_______________
POWER UPS:
magenta =spread shot (15 seconds)
green = bullets get faster (15 seconds)
yellow = larger bullets (15 seconds)

orange = impact on ball increases (15 seconds)
red = fire rate increase (15 seconds)
blue = shield +1
__________________________
THANKS SO MUCH FOR PLAYING!! :) :) :)

All feedback is appreciated!
| | |
| --- | --- |
| Updated | 2 days ago |
| Status | In development |
| Platforms | Windows, Android, HTML5 |
| Rating | |
| Author | RikOclon |
| Genre | Shooter, Action |
| Made with | Unity |
| Tags | Difficult, pinball, Pixel Art, Retro, Sci-fi, Singleplayer, Space, veritcal-shooter |
| Average session | A few minutes |
| Languages | English |
| Inputs | Keyboard, Smartphone |
| Links | Twitch, Youtube, Twitter, Homepage, Patreon |
Download
Click download now to get access to the following files:
Android_Retro_Space_Ball_b1.0.6.apk
33 MB