Retro Space Ball
...When a pixel art vertical shooter meets pinball!!!
Navigate an energized orb to the top using powerups!
Fight massive bosses and get the highest score!
Go head to head against the AI
or a couch opponent in VS Mode!
Check out this FREE beta demo!
_______________________________________________________
Wishlist on Steam!
_______________________________________________________
Join the newsletter!
---------------------------------------------------------------------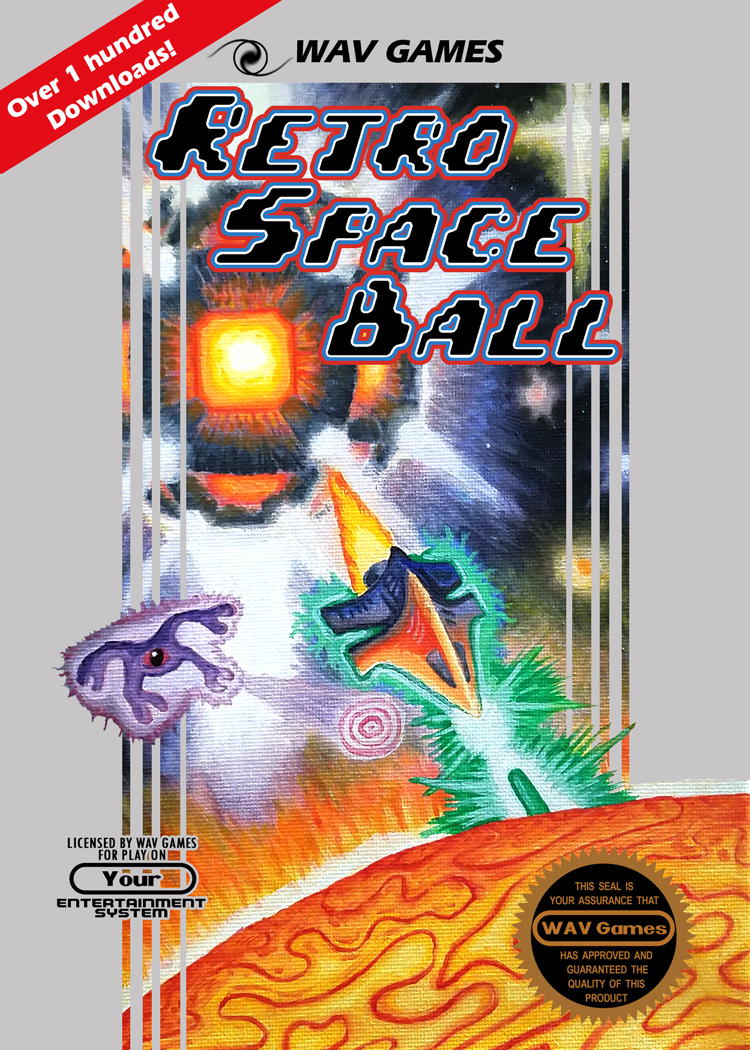 I must say... THANK YOU SO SO MUCH FOR TIPPING!
_______________________________________________________
There are tons of ways that you can help the project!
Wish-listing and telling your friends helps just as much!
_______________________________________________________
Join the Discord server to chat it up! Become a tester!
Follow me on Twitter!
Watch the game being developed on Twitch!
Check out previous devlogs on Youtube!
Check out my art and follow me on Instagram!
______________________________________________________
Beta 1.6.7 IS HERE!!!
Mineral/Gas Container UI are back on
Fixed end demo UI highlight
Player bullets explode when hitting Green level boss
lev 12 boss now checks if mouth is closed
now more of level 12 boss is visible
fixed lev 2 tutorial animation
fixed pause menu showing zone 5 in during bonus zone 6
Changed enemy1 bullet
teleporting while in planet corona turned off
Enemy1 bullets explode when the hit the wall
Boost dash is more effective on enemies
Fixed win menu not fitting on certain screens
Teleport player menu is explained
Fixed some bugs with pinball in explore mode
Removed exploder enemies for now
Fixed missing UI at planet 1 in explore mode
______________________________________________________
Beta 1.6.6 IS HERE!!!
Planet 2 is now discoverable to play zones 6-12 in story mode
Fixed zone 12 boss firing too many bullets with full health
Fixed Some UI issues (across the game)
Temporarily removed galaxy map to ease confusion
Prevent player from pausing during win animation
Fixed issue in solar system map causing it to lock up
Fixed issue where ball was knocking player off of the screen
Fixed zone 6 and 10 not working in demo mode
Gravity circle power up can be picked up by ball or player
Added more enemies to zone 8
fixed zone 6 and 7 player sprite remaining after death
Fixed vs mode UI issue where highlight would stay on
Fixed safe wall under zone 10 boss not turning on
Fixed lighting sprites sorting on top of pickup sprites
Fixed clear data button removing highlight in options menu
Fixed some sprite issues with large asteroids in explore mode
Space station waits until the player is active to show UI
Added downforce to problematic walls near zone 12 boss' arms.
Added more bumpers to zone 10 level end
Fixed space station menu from changing when not at the menu
Time now stops when the teleport menu opens
Polished end of cutscene 1 and get ready UI
Fixed issue where player cant shoot in explore mode
Fixed issues with pinball in explore mode

______________________________________________________
Beta 1.6.5 IS HERE!!!
Fixed soft-locking bug, when restarting before unlocking lev 1!
Lots of decoupled scripts, speeding up dev time in the long run!
Small changes to explore mode!

Thank you @skillznkayplay for finding the bug!
Check out the awesome video they made!
______________________________________________________
Beta 1.6.4 IS HERE!!!
Homing missiles now hit obstacles
Navigational text UI
Fixed player shield attack
Fixed bonus lev 5 start
Homing missiles now destroy destructible blocks
Fixed issue with debris field causing duplicate sprites
Fixed zone 9 player moving off bottom of screen
Fixed left and right animations acting funny for d-pad
Fixed zone 7 lighting going through safe wall
Widened tight squeeze colliders in zone 7
Fixed shield gen not working
Lowered player move down zone in zone 10
Changed how first level is discovered in story mode
Changed how intro cutscene occurs in story mode
Level design changes to explore mode
______________________________________________________

Beta 1.6.3 IS HERE!!!
Optimized Enemy Space Station in Explore mode!
Level 12 has new art, animations, and sounds!
Added gas resources!
Changed Explore resources UI!
Added more prevention for player getting stuck in wall!
Added more prevention for the ball getting stuck in the goal!
Made changes to explore mode level design!
Made Changes to background objects in explore mode (dimmer/smaller)
______________________________________________________
Beta 1.6.2 IS HERE!!!
D-pad support is finally here!
New enemies art and world layout for explore mode!
Some enemies drop minerals!
Enemy space station in explore mode!
Rhythm Space Ball prototype in beta menu!
Green level 4 in beta menu!
New enemy type!
New homing missile enemy attack!
Merchant ship added to Explore Mode!
______________________________________________________

IN THE WORKS:
The physics are being overhauled!
more fresh game music!
more Vs mode Levels!
more narrative direction!
Expect many more updates!
_______________________________________________________
Now you can find out when the game gets released via newsletter!
Join our friendly discord community!
_______________________________________________________
ALL FEEDBACK IS APPRECIATED!
Thank you, not only for your patience, but also for all the help I've received from players and the indie game dev community!
THANKS SO MUCH FOR PLAYING!! :) :) :)
_______________________________________________________
Retro Space Ball is currently in OPEN BETA.
This means that it is not a finished product and that it's subject to change.
Games can take a long time to make.
Thank you for your patience! :)
_______________________________________________________
CONTROLS:
(W) or (Up Arrow) : Fire (hold for continuous)
(A) or (Left Arrow) : Move Ship Left
(D) or (Right Arrow) : Move Ship Right
Boost - (spacebar or gamepad button)
Boosting will temporarily shield the player's ship, increase horizontal movement , and increase the fire rate for the player, but boosting can cause the ship to overheat, and it will need to cool down if so.
Esc key to pause & access options (back button (right bottom button) on android)
Gamepad controls may depend on your controller type. On a Playstation controller the left analog controls movement, (X) button shoots and hold (O) button while moving to boost. Start button pauses. Testing on Xbox controllers soon!
_______________________________________________________
GAME INSTRUCTIONS:
Get the orb to the top!
The player has a cyan shield that can be taken by enemies and their shots.
The orb has an energy level that is depleted by enemy shots and increased by player shots. If the orb runs out of energy, it dies, and so does the player. (a blinking red-orange orb has low energy, a blue orb has high energy)
If the orb falls to the bottom of the level, the player will die.
_______________________________________________________
POWER UPS:
magenta =spread shot (15 seconds)
green = bullets get faster (15 seconds)
yellow = larger bullets (15 seconds)
orange = impact on ball increases (15 seconds)
red = fire rate increase (15 seconds)
blue = shield +1
_______________________________________________________
The first 7 levels have hidden bonus rounds attached!
Find the hidden gold medal in those levels to unlock the bonus round!
______________________________________________________
I recently changed the itch page from discussion board to comments!
Please comment your feedback below! 😃


Download
Click download now to get access to the following files:
RSB_win32_b1.6.7.zip
120 MB